ENTERPRISE STORAGE
Storage is a critical factor across a myriad of vertical applications, whether supporting large-scale Cloud Services or smaller scale digital home deployments. Storage is the basic building block technology to help sustain and support the exponential growth of data. As data storage requirements increase, even greater damage can be caused by a single data crash- that's why you need PROMISE RAID storage to protect your data.
PROMISE Technology, Inc. is a leading supplier of sophisticated RAID storage solutions catering to customers from the enterprise to SMB, as well as SOHO and digital home applications. PROMISE's award-winning products help solve the business challenges for a new generation of data-intensive business imperatives through a combination of advanced engineering, technical development and industry-leading OEM relationships.
With rapidly growing demands on Storage Area Networks (SAN), IT departments require the best performance, capacity and overall value from their storage investment. The PROMISE VTrak Ex30f delivers on all fronts, with unparalleled next generation storage processing power. Using high-speed 8Gbps host connectivity coupled with massive internal bandwidth, the VTrak Ex30f features the latest 6Gbps SAS/SATA drive technology to set a new performance standard. While disk performance is critical, the VTrak features an easy to use web interface to simplify storage setup and management.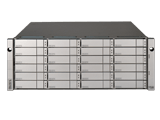 3U-16 Bay/4U-24 Bay 6Gb/s SAS JBOD Expansion Chassis